Our organisation is territorial. The supporters' club movement is made up of over 1,265 supporters' clubs and 170,000 penyistes worldwide, grouped into 30 territorial Federations that provide them with support and advice regarding all aspects relating to the organisation of the events and activities they promote. Specifically, the supporters' club is a welcome point where you can know and follow the playing style and the values FC Barcelona transmits. Conversely, it is an information focus as well as a booster of the cultural activity that takes place in its zone.
Each of the Federations of the Supporters' Clubs World Confederation has at least one representative on the Supporters' Club Council, usually the president of the territorial entity. The Supporters' Club Council is the highest decision-making body between Congresses. It elects the board of directors for the Supporters' Clubs World Confederation and includes an Executive Committee that brings into effect the decisions made at the Supporters Club Council plenary and the World Congress of Supporters' Clubs. The members of the Executive Committee are elected by the members of the Supporters' Club Council.
THE WORLD CONGRESS OF SUPPORTERS' CLUBS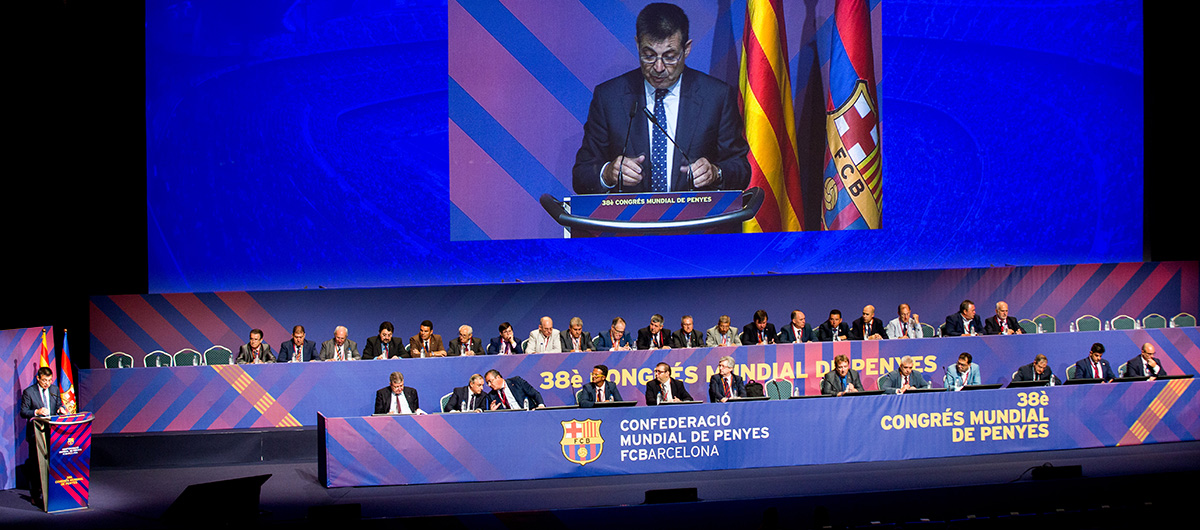 Each year we organise the World Congress of Supporters' Clubs, the greatest decision-making power of the movement and the largest meeting of supporters clubs of the season. For three days, penyistes and members of FC Barcelona have the opportunity to share experiences, passion, work and euphoria with sport as the common denominator.
Over its thirty-eight editions, the Congress has established itself as the greatest and most important meeting of the supporters' club movement, an event that brings together Barça supporters of all nationalities.
The Congress includes an institutional work day attended by representatives of the 30 territorial Federations and the Club. In total, some 1,200 people take part in the event, something which demonstrates the global nature of the initiative and its impact on a worldwide scale.
In addition, a range of activities take place at the Congress aimed at the people who make the supporters' clubs movement tremendous. These include the 7-a-side football, Penyes Futbol Games, Penyes Padel Tour and cards tournaments, a gala lunch and a popular dinner.